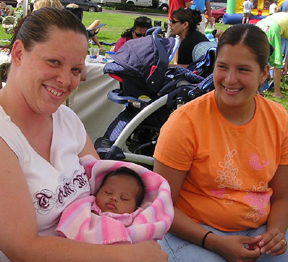 CA Early Start (CES) is intended for infants and toddlers who have a developmental delay or disability, or an established risk condition with a high probability of resulting in a delay. The Exceptional Family Resource Center (EFRC) serves as a "Point of Entry" for CA Early Start Services in Diego and Imperial Counties, and participates on a multi-agency collaborative which includes Regional Center and your Local Education Agency (LEA).
If you have a concern about your child's development, we encourage you to contact EFRC Family Support Liaisons who will assist you with intake, support and resources. For more information about CA Early Start Services in San Diego and Imperial Counties call EFRC at 619-594-7416.
You may also contact your child's health care provider, your Local Education Agency (LEA) or Regional Center. Your child will then be referred to a team of experts from Regional Center for an assessment to determine eligibility. If your child is found eligible for CA Early Start Services, an Individual Family Service Plan (IFSP) will be developed. An Individualized family Service Plan or IFSP is a written plan for providing early intervention services to an infant or toddler who is at risk or has been diagnosed with a disability and their family.
San Diego County of Point of Entry Programs

Imperial County Point of Entry Programs

Key Resources:
A Guide for Parents/Guía Para Padres de Familia

CA Dept. of Developmental Services Early Start

CA Dept. of Education (CDE) Early Childhood Special Education Series

Family Resource Center Network of CA
San Diego & Imperial Counties Regional Center
US Dept. of Education Resources